August 24th, 2009 by
Benj Edwards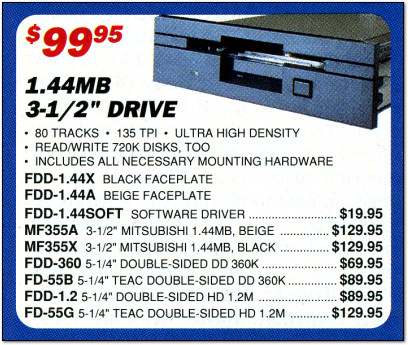 "Read/Write 720K Disks Too"
Nothing illustrates the frenetic pace of technological change like past/present price comparisons. As seen in this group ad by JDR Microdevices, a 1.44MB 3.5″ floppy disk drive sold for US $99.95 in 1990 ($164.69 in 2009 dollars). But that's just for the generic model — for a name brand Misubishi, you had to pay $129.95 ($214.12 in 2009).
That's quite a price for a now-obsolete commodity device that sells for $7.99 today (or $4.85 in 1990 dollars, interestingly enough). Of course, in 1990, a high density drive like this was cutting-edge.
As an aside, notice that the 3.5″ floppy drive pictured occupies a 5.25″ half-height form factor. That shows you how old this is — at the time, most owners slid 3.5″ upgrade drives into computer cases that only shipped with 5.25″ half-height bays (this bay size commonly holds desktop DVD-R drives today). To do so, many 3.5″ floppy drives needed a special face plate and brackets to fill the gaps between the smaller drive and the larger bay around it.
[ From BYTE, October 1990 ]
Discussion topic of the week: What's the most you've ever paid for a computer peripheral or upgrade component?