September 28th, 2009 by
Benj Edwards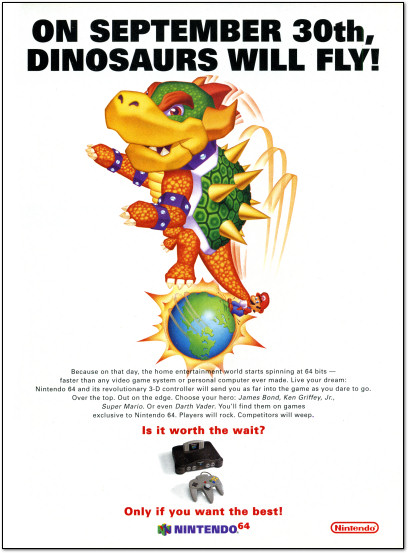 Only if you want the best!! !! — !!
Thirteen years ago this Tuesday, Nintendo launched the Nintendo 64 video game console in North America. That's right: it was on the 29th, despite the "September 30th" that this ad boldly proclaims. After this ad was published, Nintendo moved the launch date a day back from a Monday to a Sunday (supposedly to prevent people from skipping work or school to buy the system, although I haven't confirmed that).
It seems more likely to me that Nintendo realized a larger number of people would actually be able queue up for a system (or simply just go to the store and buy it) on their day off. Stronger opening day sales numbers were (and still are) important to console makers because they meant not only more press coverage, but also more license for ecstatic gloating and self-aggrandizement from the company's PR department. If you hadn't noticed already, hyperbolic show and bluster were dominating themes in 1990s American video game marketing.
Either way, dinosaurs did fly, and an enormous Stay-Puft Mario carelessly wiped western Europe off the map with his spinning boot heel. Fun was had by all.
[ From GamePro, April 1996 ]
Discussion topic of the week: What's your favorite Nintendo 64 game of all time?