November 9th, 2009 by
Benj Edwards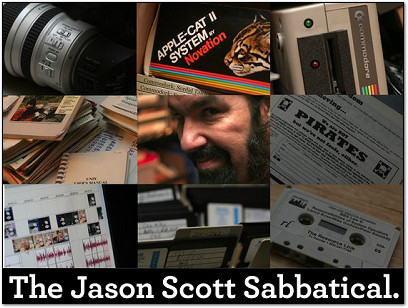 Jason Scott is a singular fellow. He's the man behind the BBS Documentary, the upcoming Get Lamp documentary (on text adventure games), and creator of textfiles.com. He also spearheaded a recent attempt to archive all of Geocities before Yahoo took it down recently.
This fellow historian, friend of VC&G, and archivist extraordinaire recently lost his long-time job as a system administrator. Like many who have found themselves unemployed recently, the situation inspired a little soul-searching from Scott, who realized his stressful years as a system administrator had worn down his health.
Something important dawned on him: he already spent so much of his spare time and money on his main passion — preserving and documenting computer history — why not try to do that full time?
That's where the Jason Scott Sabbatical fund at Kickstarter.com comes in. Scott is seeking donations from people around to globe to fund a 3-4 month sabbatical wherein he can focus on his history and archiving work full time. So far, hundreds of people have chipped in (including myself), but he still needs more donations to push him over top of the hill.
I can honestly say there's no one else out there like Jason Scott, and we will likely never see another single individual so fiercely (and I mean fiercely) dedicated to preserving the overlooked backwaters and forgotten alleys of our digital history. Scott's goal is a worthy one, and he does monumentally important work that future historians will thank him for.

This sabbatical concept via Kickstarter is a somewhat radical idea, I know. Some of you will have doubts about it — for example, if he will spend the money properly. But I don't fear that outcome: that's for Jason Scott to sort out, and for his own conscience to live with.
If you contribute a modest amount, you have little to lose. If he blows the cash, so what? But if you contribute and Scott does what he promises to do, I predict that history will have a lot to gain — not only in terms of added, productive years on Jason Scott's life, but in countless terabytes of priceless historical data that will serve as the foundation of our ancestors' understanding of the past.
As a historian, I need Jason Scott to continue his work. As a human with a responsibility to the legacy of your species, you need Jason Scott to do his work. Please consider helping him out.