November 12th, 2009 by
Benj Edwards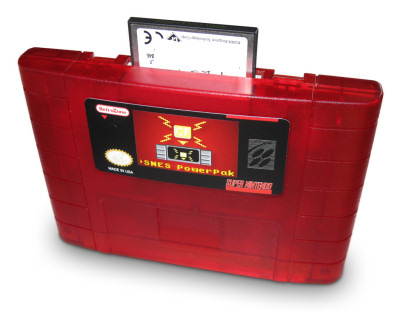 Remember the PowerPak — that wondrous device from RetroZone that allowed you to cram every NES game ever made into one cartridge? Well, two years later, RetroZone has released its follow-up, the SNES PowerPak for the Super NES.
Well, they've kinda released it. Sales appear to temporarily be on hold in order to "investigate system compatibility," according to the RetroZone website.
For those unfamiliar with the original PowerPak concept, the SNES PowerPak allows one to copy SNES ROM files onto a compact flash card, place the card into the SNES PowerPak cartridge, and then play those games on a real Super NES unit. It supports multiple games through on-screen menu selection.
More Info to Come
When I stumbled across the new SNES PowerPak today, I initially felt like jealously hoarding the knowledge so I'll have less competitors when I try to get my hands on one of these magical devices.
But then I realized that I have a responsibility to let you guys know about this, since so few sites out there cover the world of Nintendo hacking and modding — and especially since the proprietor of RetroZone doesn't make much effort to get the word out.
Whenever I get one, I'll write a review for VC&G. Until then, you can drool over it like me at the RetroZone site.