January 11th, 2010 by
Benj Edwards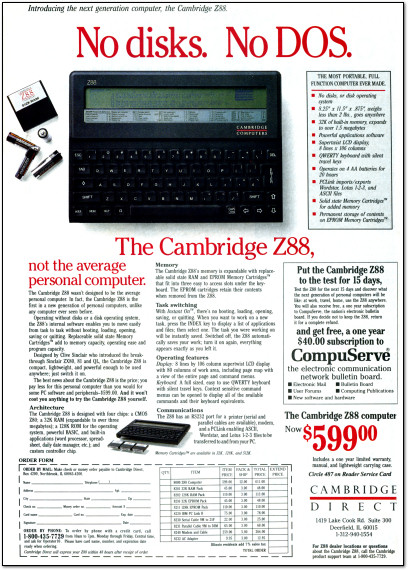 There's a little bit of Clive in every box.
The Cambridge Z88 (1987) was a slim, diskless, battery-sipping laptop computer similar to the famous TRS-80 Model 100.
Interestingly, former VC&G contributor Gnome wrote about this machine for us in 2006. He makes specific note of the Z88's relationship to Sir Clive Sinclair of Sinclair Research fame.
I don't have a Z88, but I love laptops in this monolithic, almost slate-like form factor. If you have one you'd like to get rid of, I'm all ears.
[ From Byte Magazine, October 1988, p.88 ]
Discussion Topic of the Week: Have you ever owned a laptop with a non-folding screen (i.e. not a clamshell design) like the Z88 above? What did you like or dislike about it?