February 22nd, 2010 by
Benj Edwards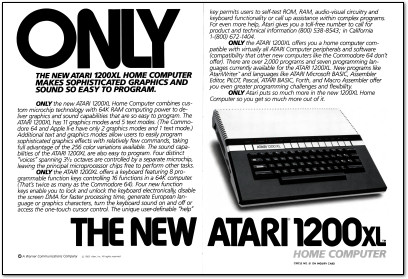 Atari's best 8-bit keyboard?
The Atari 1200XL (1982) is something of a cult favorite among Atari 8-bit computer fans due to its keyboard, which probably has the nicest feel of the entire 8-bit line. 1980s critics, while appreciating the unit's keyboard, simultaneously derided the 1200XL for minor incompatibilities with existing software created for the earlier Atari 400/800 computers. I personally don't like its recessed cartridge slot, but if you have an AtariMax MaxFlash multi-cart, you don't need to change cartridges very often.
Over the past decade, I've often used my Atari 1200XL as an ideal machine for Atari text adventure games. Whenever I encounter software incompatibilities, I just break out the Atari 800XL or 130XE. Each Atari model has a flavor of its own, and it's a pleasure to use most of them — if you choose the right machine for the right task (hint: don't try to write a term paper on an Atari 400's membrane keyboard).
[ From Interface Age, May 1983, p.14-15 ]
Discussion Topic of the Week: What's your favorite model in the Atari 8-bit computer series? To recap, you've got the Atari 400, 800, 1200XL, 600XL, 800XL, 65XE, 130XE, and XEGS.