April 19th, 2010 by
Benj Edwards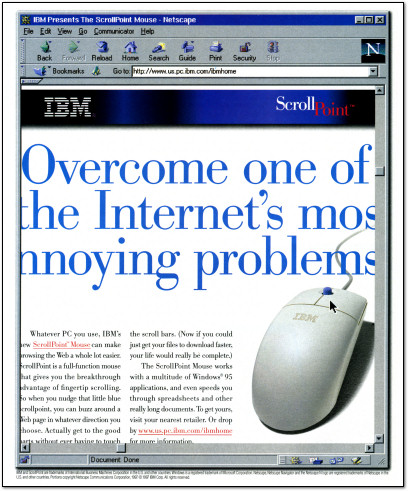 Overcome one of the Internet's least annoying problems.
Ever since Microsoft introduced its first mouse with a scroll wheel, the IntelliPoint Explorer, in 1996, mouse designers have been tripping over themselves to solve the non-problem of how to allow a user to scroll a document horizontally as well as vertically. Along the way, we've seen solutions like the IBM TrackPoint (above), Microsoft's own "tilt wheel" mice, and more recently the "scroll ball" on Apple's Mighty Mouse. In the case of the ScrollPoint mouse seen above, it looks like IBM simply took its TrackPoint pointing device and stuck it on a mouse where a scroll wheel should be.
It's all been for naught, though, because 99% of mouse users don't care about scrolling horizontally. In fact, if you have to scroll horizontally to view a website — the task most often enhanced by a scroll wheel — the website has been terribly designed. As a result, I suspect that horizontal scrolling apparatus tend to annoy users more than help them. I'm sure someone out there will read this and swear by their horizontal scrolling mouse, but I'm also fairly certain that person is in the minority.
For more on mouse history, check out this nifty article I did for Macworld a few years ago. It includes a handy mouse technology timeline.
[ From PC World, November 1997, p.27 ]
Discussion Topic of the Week: Does your mouse provide the means to scroll horizontally as well as vertically? How do you feel about it?