July 26th, 2010 by
Benj Edwards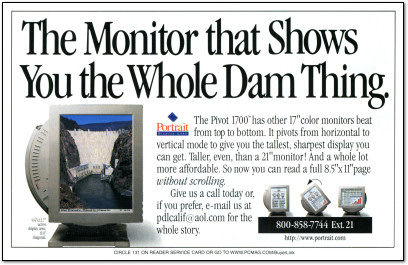 The Portrait Display Labs Pivot 1700
When I was a kid, I found myself wondering why all monitors didn't rotate from a horizontal to a vertical orientation. I thought I had invented the idea myself. Turns out, at least one company actually did make a monitor like that — the Pivot 1700 — and you're looking at it now.
Full-page displays were something of a marketing fad during the rise of the desktop publishing revolution from the mid-1980s to early 1990s. They were designed with a vertical orientation so that someone could read or edit a full 8.5″ x 11″ letter-sized page on screen at one time.
I have no doubt those displays came in handy for certain document designers and secretaries, but their high price and specialized function limited them to a small market. To this day I have never seen one being used in the wild, although I have encountered a few full page displays out of service in my collecting adventures.
In more recent years, I've seen some LCD monitors that can rotate on their base to change orientations rather easily. There's no doubt that it's a much easier trick to pull off considering the small size and weight of LCD panels verses their bulky CRT counterparts. Now whether anybody needs it or not with today's super high resolultion 30″ displays, I don't know.
[ From PC Magazine, March 4, 1997, p.242 ]
Discussion Topic of the Week: What's the largest CRT computer monitor you've ever used? How big is your monitor (any kind) now?