March 7th, 2011 by
Benj Edwards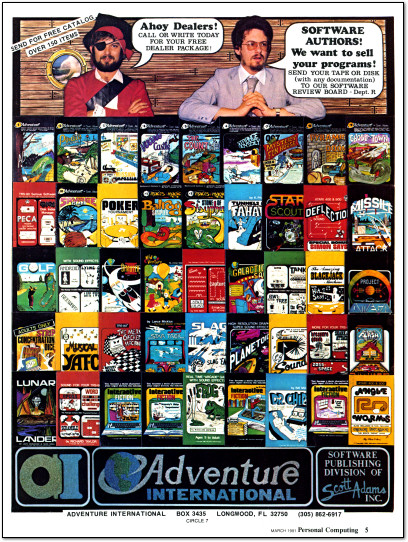 Have you played all 45 games seen here?
Scott Adams adventure games are nigh-but-legendary in the history of computer gaming. Mr. Adams' company, Adventure International, published dozens of interactive fiction titles (some with graphics) between 1978 and 1985. They were available on just about every computer platform of the 1980s, so it's likely you've encountered at least one of them if you owned a computer at that time.
Early Adventure International games sported a relatively simple input parser (usually two words, a verb and a keyword) compared to Infocom fare, but that didn't stop Adams' captivating games from spreading far and wide — both legally and via piracy — across the personal computing universe.
Regarding the two men pictured in the ad above: I'm guessing they're Scott and Alexis Adams, the two men behind Adventure International. Turns out Alexis is a woman (see comments), so it's unlikely one of them is her unless she was fond of wearing drag.
…Oh, and I know Jason Scott will say something if I don't mention Get Lamp, his new documentary on text adventure games. I haven't seen it yet, but I hear it's great.
[ From Personal Computing, March 1981, p.5 ]
Discussion Topic of the Week: What's your favorite interactive fiction (aka "text adventure") game of all time?