May 17th, 2011 by
Benj Edwards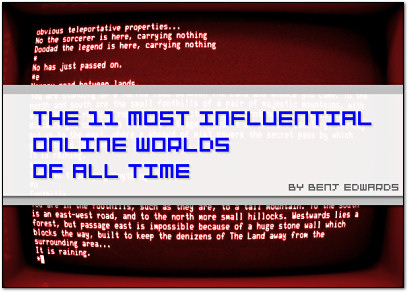 CYBERSPACE (echo, echo, echo…):
The future of mankind or an ingenious scheme to sell virtual furniture for real money?
It's been a while since I've done a slideshow where I attempted to quantify the unquantifiable and rank a series of things in order from least to greatest. I'm typically not a fan of the format because the results are always subjective, but I still think it works because it stimulates public thought and gives me a good excuse to both entertain and educate on a subject I love.
The subject, in this case, is online worlds, where people gather together in virtual space to buy/sell mouse-crafted Furry outfits, chat about LARPing, and construct entire worlds filled with simulated genitalia.
So without further ado, I present to you "The 11 Most Influential Virtual Worlds of All Time" over at PC World. I hope you enjoy it.
When you're done reading/pounding your fists, feel free to tell us about your favorite online worlds in the comments below.