October 14th, 2011 by
Benj Edwards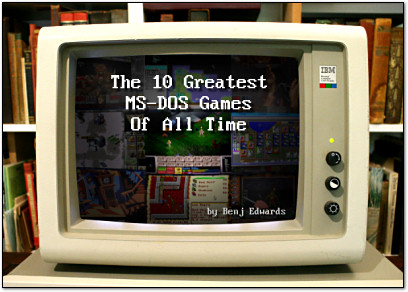 Way back in early August, I put together a list of the 10 Greatest MS-DOS Games of All Time for PC World to coincide with the 30th anniversary of the IBM PC. Everything was set to go, then my editor got into a doozy of a bicycle accident.
Thankfully, he's OK. He managed to edit the slideshow, which is up now, despite having a few broken ribs. Take a peek.
My original captions have been expertly truncated to more appropriately fit the slideshow format, so it may not contain as much of my reasoning for each game's inclusion as I had hoped. Still, it turned out very well, and I feel strongly about my picks. (I also love my intro slide, the crafting of which sometimes becomes my favorite part of making slideshows.)
Here is my inclusion and ranking criteria, from my original introduction from before it was shortened:
For this author, a combination of factors roll together to constitute Greatness: among them, innovation, influence, fun factor, and replay value with considerations for each game's contribution to the MS-DOS gaming culture thrown in. In the ranking, games that originated or most prominently thrived on non-DOS platforms were generally disqualified from consideration.
Whenever I do a slideshow like this, I like to remind people that my top 10 list is nothing more than a work of educated opinion. I'm typically not a fan of the format because the results are always subjective, but I still think it works because it stimulates public thought and gives me a good excuse to both entertain and educate on a subject I love.
So now I turn the spotlight to you, dear readers. If you were assembling a top 10 MS-DOS games list, what would be on it?