January 30th, 2012 by
Benj Edwards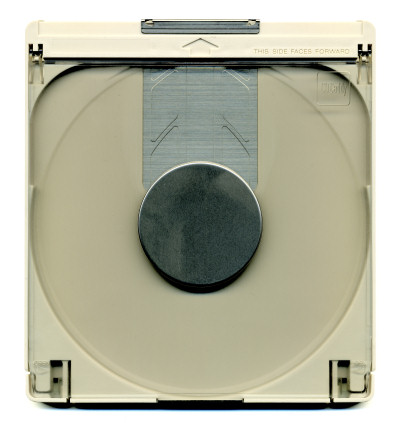 Compact Disc Protection
Here's a computer artifact you don't see very often these days: a CD caddy. Many early CD-ROM drives (released roughly 1985 – 1993) required the use of CD caddies, which were designed to protect CD-ROM discs from dust and rough handling. With a CD inside, they look a lot like a bigger version of a 3.5″ floppy disk, albeit with a clear window on one side.
When I ran across this caddy in my collection recently, it made me think a little deeper about why engineers invented them in the first place. Why were CD caddies so common at one point, I wondered, and why are they virtually extinct today?
I have decided that it all boils down to the price and preciousness of commercial CD-ROM discs.
The Land Before CD Burners
When manufacturers first introduced CD-ROM drives in the mid-1980s, CD-ROM titles were very expensive and nearly impossible to copy.
The earliest discs typically held the equivalent of dozens of volumes of printed books, such as an encyclopedia or a comprehensive medical reference. At that time, printed references were still big business, and publishers didn't want to cannibalize print sales with a relatively cheap, easy to produce, and easy to distribute computer data disc. That factor, when combined with low competition and low demand, kept CD-ROM prices high. For example, a copy of the all-text (this is pre-multimedia) Grolier's Academic American Encyclopedia on a single CD-ROM sold for $199 in 1986 (that's $360.99 when adjusted for inflation).
If you bought a $361 CD-ROM disc today, and you had no way to back it up, copy it, or download the equivalent data from the Internet, you'd probably want to put it in a CD caddy too.
Compare that price with the average music CD, which cost about $15 in 1986 (about $30.79 in today's dollars). If you scratched your Bruce Springsteen CD, it wasn't that much of a financial outlay to replace it, which would explain the lack of caddies in music CD players.
The Demise of the CD Caddy
The CD caddy carried with it two major drawbacks that led to its downfall: cost and inconvenience. To protect all your CD-ROM discs, as intended, you had to buy a caddy for each disc, which added significant ownership cost at a time when caddies sold for over $10 a piece. Exactly because of this, people tended to buy only a few CD caddies and swap their discs out between them. Inserting and removing a disc from a caddy was a tedious operation that actually increased disc handling time, thus negating the protective benefits of the caddy to begin with.
As CD-ROM titles began to drop to the under $100-per-disc mark (very early 1990s), tray-loading CD-ROM drives emerged that did not require caddies. They were convenient and easy to use. When paired with continually dropping CD-ROM disc prices, caddy-using drives became rare by the mid-1990s, and almost completely extinct by the time CD burners went mainstream in the late 1990s. By that time, the preciousness of your average factory-pressed CD-ROM disc had dropped dramatically.
Not all CD-ROM and optical media titles are cheaper today than they were in the past. After all, Adobe Photoshop on DVD-ROM costs over $1,000. But the Photoshop disc itself doesn't mean that much when you can rip it in a few minutes to a hard disk, dupe it to a blank DVD, or find the program online if necessary. The program doesn't even run off the disc as most CD-ROM titles once did, so we just install the program to a hard drive and set the disc aside.
Another Reason for the CD Caddy?
While CD-ROM disc prices most likely explain the rise and fall of CD caddies, they may not tell the complete story. There could be legal (say, patent) or mechanical reasons why manufacturers went with caddy-load over tray-load techniques in early CD-ROM drives, although I have no evidence to support those theories at present. (One of the earliest CD-ROM drives used a top loading paradigm, by the way.)
For example, perhaps early CD-ROM drives could be made smaller or more cheaply if they used caddy-load mechanisms. Or maybe the caddies allowed early drives to read discs faster than 1X speed. To find out, we'd have to talk to an engineer who designed CD-ROM drives, and that's a bit beyond the scope of a Retro Scan of the Week.
If anyone out there designed or worked on CD-ROM drives professionally, I would love to hear from you in the comments below.
Discussion Topic of the Week: When did you get your first CD-ROM drive (for a personal computer)? What were some of the first CD-ROM titles you owned?