November 4th, 2005 by
Benj Edwards


Part of what I want to do here on VintageComputing.com is to share my experiences with certain products and services related to the vintage computing or gaming communities, so that other enthusiasts might know who to trust and who to avoid (if you trust my opinion, anyway). That's why I'm devoting this mini-review to AtariAge's online store. Yes, to the store itself and its service.
I have ordered twice from AtariAge over the last year and a half. First, I ordered a SIO2PC cable kit and a Hollex Cartridge, both for the Atari 800, and also a Redemption 5200 joystick adapter. Then, earlier this year, I ordered a version of M.U.L.E. adapted to the Atari 5200 (pretty awesome, by the way) and a homebrew game called Skeleton+ for the Atari 2600 (each of these items might be subject to their own reviews in the future). Both times I was very satisfied with every aspect of AtariAge's service.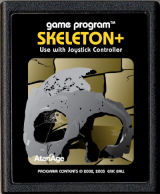 First of all, the store's design and functionality is excellent. It is organized in a relatively easy to understand and navigate manner. If I ever ran an online store, I'd probably shamelessly pattern it after AtariAge's store/shopping cart software (whether custom or a modified package, it's still good). AtariAge's checkout process integrates seamlessly into the PayPal system and payment via credit card is easy and fast (AtariAge also accepts check/money order payment, but I haven't tried that). Their shipping options (typically USPS First Class and USPS Priority Mail) are realistic and actual-cost — no shady handling fees padded onto the total. After waiting a week or maybe less, depending on which shipping method selected, your package arrives. I personally was very happy with the speed at which the products got here, and the professionalism with which they were packed (the padding seemed adequate for the items inside), complete with a packing slip / receipt inside the box. The items that I ordered were exactly as described, obviously handled with care and in excellent condition.
All in all, if anyone is reticent about ordering from AtariAge, don't be. I highly recommend their store and personally consider it a service to the vintage gaming community, not some over-commercial exploitation of the "retro" market. They're the Real Deal, as I like to call it, doing it for the love of the game (those phrases might become VC cliches soon if I keep saying them). So what are you waiting for? Order a homebrew 2600 game now!
The Skinny: AtariAge's Online Store
Good Features:
Great store layout, functionality. Realistic prices, good payment options, excellent shipping options, fast and as-described service. The Real Deal.
Bad Features:
Selection is a little sparse, but that's quite a stretch for a negative feature. Requires use of PayPal for credit card purchases.
VC Rating:
(10 Being Best)
[ 9 out of 10 ] Shiny Marbles