February 22nd, 2013 by
Benj Edwards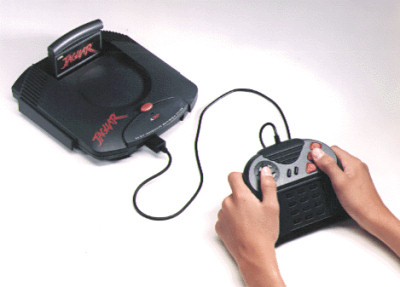 Click to see other views of this image: [ Original Size ] [ 2X Zoom ]
Just two days ago, Sony announced the PlayStation 4 at a press event in New York. It reminded me of the last time I eagerly awaited a new console launch. That would be way back in 1993 with the introduction of the Atari Jaguar (check out the original press release at that link).
I was a huge Atari fan at that time, and I was also very active on the "GO ATARI" forum on CompuServe. From that forum, I downloaded this early Jaguar press image in 1993. It's an official press image created and uploaded to CompuServe by Atari Corp. itself — quite possibly the very first one.
I did end up getting a Jaguar for my birthday in 1994, and that was one of the best birthdays of my life (Super Metroid also arrived that day). The Jaguar, sadly, did not live up to its promise. But it was fun cheering for the "Atari team" as it took on the Nintendo juggernaut in the early 1990s.
(The Jaguar was one heck of a Doom machine, though. I played Doom on it more than any other platform. And Temptest 2000!)
GIF Origin Platform
The image's irregular 469 x 337 dimensions (not a standard display resolution, common to windowing systems) and 24-bit color resolution (the size of the palette the image's colors were drawn from) in conjunction with a September 1993 date lead me to believe this image was likely created on a Macintosh.
Atari computers like the TT030 and Falcon did not support 24-bit palettes by default (12- and 18-bit, respectively), but it would have been possible to install a graphics card in a TT030 that did support it.
I'd shy away from an IBM PC compatible, because that meant Windows 3.1 in 1993, and you'd need a special card to support a 24-bit palette (VGA was 18-bit), which was still slightly rare in 1993, but not unheard of by any means. So it's possible.
Ah, image nerdery.
[ Wondering what a GIF is? Read the introduction to this column. ]
Retro GIF of the Week Fact Box
Source File Name:
JAGUAR.GIF
Oldest Known File Date:
September 2, 1993 – 4:57:02 PM Eastern

Source File Format:
GIF – 87a (non-interlaced)
Dimensions:
469 x 337 pixels (irregular)
Color Depth:
8-bit (256 color)
Color Resolution
(palette size):
24-bit (16,777,216 colors)
Origin Platform:
Unknown
Derived From:
Scanned photograph
Creation Date:
1993
Artist:
Atari Corp.
If you know more about the origin of this image, please leave a comment.