August 19th, 2013 by
Benj Edwards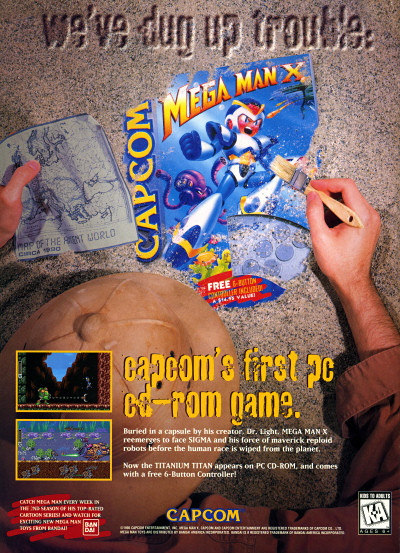 Digging up video games in a mall ashtray
I was a huge fan of Mega Man X when it first came out on the Super NES in 1993.
…Well, I rented it, anyway, and I played it more than any other side-scrolling Mega Man game before or since. I loved finding the secret Hadoken fireball power up, which I read about in Nintendo Power.
Much to my present-day surprise (even though I owned this magazine when it was new), Capcom produced a version of Mega Man X for the PC, and on a CD-ROM no less. Has anyone out there played it? I'm wondering if the adaptation was any good.
[ P.S. Shortly after writing this entry, I tracked down a warez copy of Mega Man X for the PC, and it's surprisingly well done. However, its utilization of MIDI music provides for a pretty surreal Mega Man experience — surreal in the sense that the tunes generally sound horrible compared to MM games that are famous for their music. ]
[ From Electronic Gaming Monthly, September 1995, rear cover ]
Discussion Topic of the Week: What's your favorite Mega Man game of all time?