Thursday, November 3rd, 2005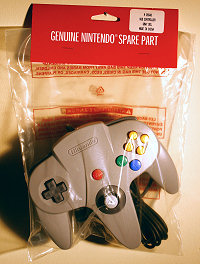 Last week I ordered two new Nintendo 64 controllers from ShopNintendo, Nintendo of America's official online store. They offer various parts and accessories for their more recent systems for sale. I know what you're thinking. "RedWolf, why on earth did you pay $25 for a N64 controller? That's almost original retail cost!" Well, I'll tell you why. Having been burned badly by the Great Lack of First-Party SNES Controllers Experience of 2004, I decided to stock up while I still could on N64 controllers. As you know, these things wear out pretty quickly with even a modest amount of playing over time, so it will be great to have some new good controllers in the future when needed, instead of 3rd party bottom-of-the-barrel schlock which hardly works. See, vintage gaming isn't just about the past — it's about the present, or near-past too; you have to plan ahead! That's why the clearance isle is so vital. I missed N64 controllers on clearance, so now I have to pay for it by buying them from one of the only places you can get them — Nintendo itself. Mark my words: in five years, you will regret not having stocked up on N64 controllers too.
So how was the service from ShopNintendo? Pretty darn good. The communication was good, the shipping was cheap (near actual cost) and fast, and the controllers delivered new as promised (complete with official-looking "Genuine Nintendo Spare Part" baggies, which somehow I find more exciting than retail boxes!). The only problem with the service was the abysmal packing procedure. They used merely a semi-crumpled piece of thin paper to "pad" my two loosely-packed, not-in-box N64 controllers. Luckily, UPS was kind to the box on its journey to my house, so no damage was incurred. But this rosy scenario could have easily changed with the simple flip of a coin. I've received some pretty f'd up packages over the years, and I know that incredibly redundant packing material is necessary for safety. One UPS guy I had used to practically run and punt my packages onto my front porch from fifteen feet away.
The Skinny: ShopNintendo's Service
Good Features:
Good communication, tracking info, quick shipping, good shipping options. Items delivered as described.
Bad Features:
Abysmal lack of packing material (padding) could have easily resulted in two crushed N64 controllers on any other day.
VC Rating:
(10 Being Best)
[ 7 out of 10 ] Shiny Marbles