Monday, September 4th, 2006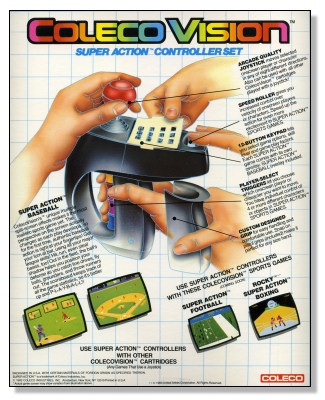 And you thought video game controllers were over-complicated these days; this one requires five (slightly-pudgy child) hands just to use it properly.
Take a look at this bad boy: four trigger buttons on the pistol-like grip (one per finger), twelve buttons in the overlay-friendly numeric keypad matrix on top, a one-dimensional "speed roller" wheel near the back, and an extremely flaccid red-knobbed joystick crowning it all. Combine this with the futuristic look of a gaudy black space gauntlet that literally engulfs your hand, and you've got the ColecoVision Super Action Controller. This marvel of controlling technology came in sets of two with a "Super Action Game" included — in my case, "Super Action Baseball." I'm lucky enough to have a pair essentially "new in box," so I grabbed these scans off the box itself.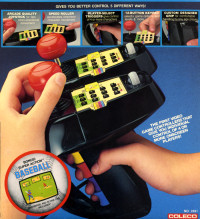 It's no secret that the ColecoVision's original controllers were absolutely horrible. In fact, they could only be surpassed by those of the earlier Intellivision in terms of "least ergonomic controller design ever." Obviously someone within Coleco noticed this fact and set out to design a super-ergonomic controller with a vengeance. But it seems they went a little overboard in the process: on the box it claims that the Super Action Controller is "the first video game [controller] that [gives] you individual control of 4 or more onscreen players." Sounds really simple and easy to use, doesn't it? With this amazing controller, you can control an entire baseball team with only one hand! Coleco was obviously way ahead of its time in this respect, as it seems the rest of the video game industry has still not caught up with their incredible insight into control of on-screen characters. Had Coleco gotten their way, we'd probably be playing five-on-five video basketball against ourselves (using one finger for each player) on a controller with twenty-five buttons. The extra fifteen are for the refs and the cheerleaders, of course.