Wednesday, January 4th, 2006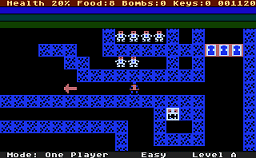 A few weeks ago, while playing through my Atari 800 game collection, I discovered a rare gem that I'd never played before. It quickly made my way into a top ten list of most underrated games of all time (well, for the Atari 800 at least). It's called Dandy Dungeon, a 1983 release through the Atari Program Exchange (APX) written by then-MIT-student John Palevich. At first glance, it appears to be a Gauntlet clone with primitive graphics (the Gauntlet of which I speak is the 1985 Atari Games arcade release), but it turns out that Gauntlet, not Dandy, is the clone (apparently, Mr. Palevich wasn't too happy about Ed Logg stealing his design and sued Atari Games over it). I had played another game just like Dandy before for the Atari 7800 called Dark Chambers with exactly the same gameplay, but different graphics. Well, it turns out it's no co-incidence — Dark Chambers was written by John Palevich as well, commissioned by Atari Corporation later on. As an interesting bit of trivia, Atari Corporation and Atari Games were two separate companies by the time of Gauntlet's release in 1985.
So then, why is Dandy so cool? I'll give you my first three reasons: it plays like a dream, it supports four simultaneous players, and it includes a built-in dungeon editor! The included dungeon designs aren't very good, I'll admit, but the ability to design your own dungeons overcomes this weakness (plus, I found six Atari 800 disk images with dungeons designed by different people — see below). Gameplay is smooth, robust, and the controls are great. Also, like in Gauntlet, slugging it out with three other friends is priceless. Finding good four-player games for the Atari 800 is tough, so I'm very happy about this feature.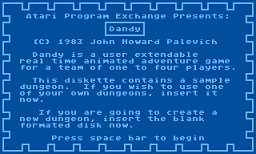 What makes Dandy like Gauntlet and, yet…unlike Gauntlet? First of all, similarities include running around a dungeon shooting monsters with up to four friends, collecting food, using potions (bombs) to kill masses of monsters (who just so happen to come from generators at times). Also, you depart each dungeon level at an exit and descend to a lower dungeon level. The most obvious difference between the two, to me, is the fact that your health doesn't tick down over time in Dandy like it does in Gauntlet (an ingenious feature to swallow up more of your quarters in the arcade — Mr. Logg knew what he was doing). Also, the monsters in Dandy Dungeon have a strange hierarchy that is slightly hard to explain. There are different "levels" of monsters. Each level, or strength, per se, looks different, but they all behave the same (they don't shoot, just run at you). The higher the level of monster, the more shots it takes to kill it. But with each shot along the way, the graphic for the monster changes down to a lower level of monster, until it dies. For example, there is a "little man" monster who takes only one shot to kill. Then there is a "smiley face" monster that takes two shots. However, when you shoot the smiley face monster, it turns into the little man monster, who in turn only takes one shot to kill. It's weird, I know…Dark Chambers is just like this too. Luckily, Ed Logg had the sense to change this confusing design feature when designing Gauntlet (which has discrete types of monsters that each have different characteristics). Also, in Dandy, you can save the food you collect for later use, which is nice — in Gauntlet, you eat it immediately, whether you need it or not.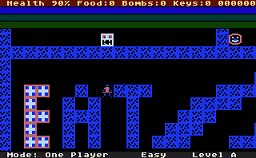 If you'd like to play the game, get a good Atari 800 emulator (I recommend Atari800WinPLus) or an SIO2PC cable to play it on a real Atari, then download the disk image. If you want different dungeon map packs, here they are: Pack 1, Pack 2, Pack 3, Pack 4, Pack 5, Pack 6. Finally, here's a note on gameplay that's not immediately evident: to use collected food, press 1 through 4 on the keyboard, where the number you push is the number of the player who wants to use stored food. The same goes for bombs, although you hold down the SHIFT key while pressing the number. You can also shoot bombs, of course, for immediate effect.
Have fun! Please feel free to share your comments on the game below in the comments section.
[Update: 11/17/2014 — I changed the SIO2PC link from sunmark.com (now long since gone) to a link to AtariMax that works. ]