Monday, December 14th, 2015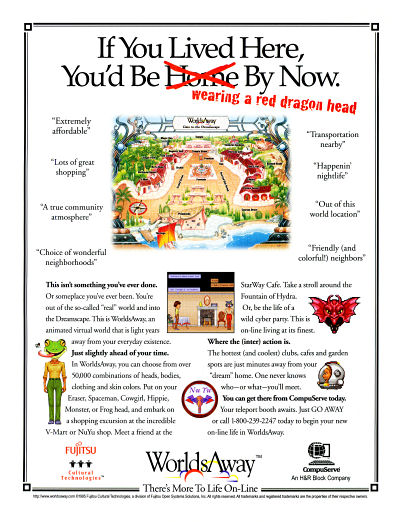 "There's More to Life On-Line"
Just a few months ago, the 20th anniversary of the launch of WorldsAway, a pioneering graphical online world, came and went without any major notice (it launched in September 1995). But I remembered the milestone, and I wrote a recent This Old Tech column over on PCWorld.com about my memories of the service, which I stuck with in some form or another until 2001.
WorldsAway was simply magical when it launched. It promised to put you, as a user, into a graphical world that you could share with other online users (the term "Avatar" as an online representation of your physical self came from the creators of this lineage of online worlds). It delivered on that goal with a charming atmosphere — where you could change between whimsical heads with ease — and a vibrant community that I still look back on fondly to this day.
Honestly, I miss being part of that WorldsAway community. My involvement there came at a time when I was fairly lonely and isolated with my hobbies — my high school years — during a time when few "average" people used any online service whatsoever. Don't get me wrong; I did fairly well at school, and I wasn't a freak with no friends — but the real-life friends I did have did not share my love for the online world. Online, of course, I could find others like me, and on WorldsAway, we all celebrated that commonality together in a vibrant, playful world.
Did anybody else use WorldsAway in the 1990s? I'd love to hear from you.
P.S. I was an avid reader and subscriber of CompuServe Magazine in the 1990s, which is where I found and drooled over this ad back in the day.
[ From CompuServe Magazine, March 1996, p.4 ]
Discussion Topic of the Week: Did you use any graphical online chat worlds in the 1990s? Tell us about it.