Monday, January 2nd, 2012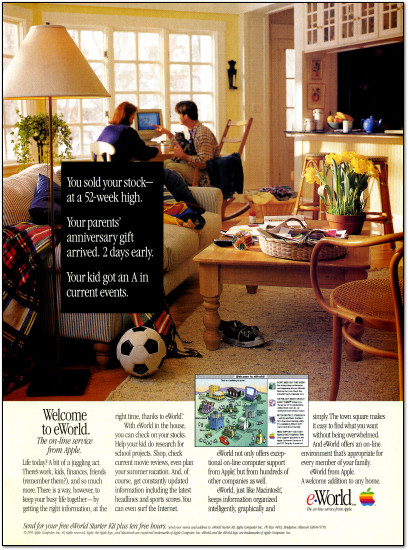 The time Apple went AOL.
In the lost era between Jobs (1985-1996), Apple produced many strange and ill-fated products. Here we see an ad for eWorld, Apple's subscription dial-up online service that launched in June 1994.
eWorld offered proprietary features like message forums, email, weather, news, and other information in a fashion similar to CompuServe, Prodigy, or AOL. It also provided an early consumer portal to the Internet.
Due to its high price ($8.95 per month plus $7.90 per hour from 6 AM to 6 PM on weekdays), poor marketing, and the fact that the World Wide Web was breathing down its neck, eWorld never really took off. Apple shut down the service in March 1996.
By the way, Happy New Year!
[ From Discover, May 1995, p.27 ]
Discussion Topic of the Week: Did you ever use a subscription online service? Which one(s)?