Monday, December 31st, 2012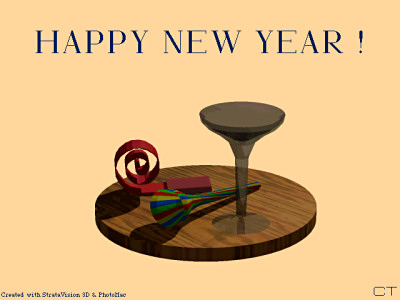 Click to see other views of this image:
[ Original Size ] [ 2X Zoom ]
In honor of the impending New Year, I bring you this ray traced image that dates back to December 1992 — 20 years ago — and celebrates New Year 1993.
As per its inscription, this image was created using StrataVision 3D and retouched with PhotoMac by its author, CT. I have not determined who CT is yet, but I will do some more poking around soon and update this entry if I find out. (If you find out first, please let me know.)
Happy New Year!
[ Wondering what a GIF is? Read the introduction to this column. ]
Retro GIF of the Week Fact Box
Source File Name:
NEWYEAR.GIF
Source File Date:
December 16, 1992
Source File Format:
GIF – 87a (non-interlaced)
Dimensions:
640 x 480 pixels
Color Depth
(bits per pixel):
8-bit (256 color)
Origin Platform:
Macintosh
Derived From:
Unknown
Creation Date:
Likely December 1992
Artist:
CT
If you know more about the origin of this image, please leave a comment.