Monday, August 24th, 2015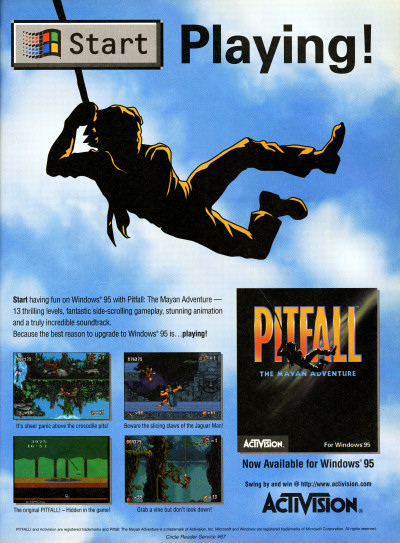 If swinging on vines was a good idea, everybody would do it
20 years ago today, Microsoft released Windows 95, the GUI-based operating system that launched Microsoft as a commercial Juggernaut into the mainstream consciousness. That's because Windows 95 was accompanied by what was likely the largest marketing push for an OS to date (no sources cited, just my brain), and it created a minor media frenzy. People actually lined up to buy Windows 95.
Windows 95 initiated a new epoch in PC gaming, courtesy of the then-completely new DirectX system of gaming APIs. DirectX made it easy for developers to create powerful, hardware hungry games that ran natively (and smoothly, CPU permitting) on Windows. (Windows nerds will recall that it followed up on the similar, if under-utilized, WinG API for Windows 3.11.)
The very first third-party Windows 95 game ever released commercially (to my knowledge — at least, it was promoted this way) was Pitfall: The Mayan Adventure, a 1990s reboot of the classic Atari 2600-era platformer Pitfall!. Here is an ad for that game around the time of its debut in August 1995.
That being said, while I am a fan of Pitfall! and Pitfall II, I have never liked The Mayan Adventure. Seems too hard and not fun. Of course, your mileage may vary.
[ From Computer Gaming World, September 1995, p.117]
Discussion Topic of the Week: How did you feel about Windows 95 when it came out? Did you upgrade?