Monday, June 21st, 2010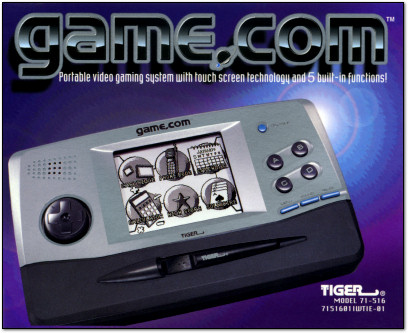 The original touch-screen game system.
Pop quiz: which video game console first featured a touch screen? (Hint: It's not the Nintendo DS.) How about this one: Which handheld console first supported Internet connectivity?
Believe it or not, Tiger Electronics — a toy company famed for its cheap electronic games — came in first on both counts with the Game.com in 1997. (Sega Saturn was the first home console to support Internet in 1996).
I was a Game.com early adopter, having bought one close to its release. The wonder of its primitive touch screen alone seemed to make up for its deficiencies at the time, so I was pleased at first. The unit shipped with a built-in version of Klondike Solitaire and a Lights Out game cartridge, both of which showed off the system's touch capabilities well. But my infatuation with the Game.com turned out to be brief.
[ Continue reading [ Retro Scan of the Week ] Tiger Game.com » ]