December 16th, 2013 by
Benj Edwards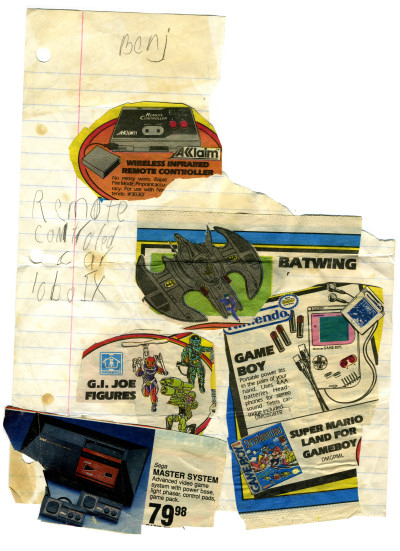 An early example of the rustic illustrated Christmas list
While sorting through my childhood papers and effects recently, I came across this amusing Christmas list from 1989. I was eight years old then, and I apparently ripped out pictures of the toys I wanted from weekly newspaper advertisements and pasted them on a sheet of 8.5″x 11″ wide-ruled notebook paper. The result was a rare illustrated Christmas list that I don't remember making before or since.
(I'm not sure why there is a big chunk of the page missing in the upper-right corner, by the way. Perhaps I changed my mind on some item and physically removed it from my list.)
What's notable for our purposes is the healthy contingent of video game related items on the list. There's a wireless remote for the NES, a Game Boy (which had just been released that year), and even a Sega Master System.
My brother and I already had a NES at that time, so the presence of the Master System here confused me upon rediscovering this list. But then I remembered that I always saw it in catalogs and wanted one because it looked cool. I guess my love for collecting consoles extends back further than I thought.
Then there's the Lobo IX RC car, which I am guessing is not pictured because it was only in the Sears or JC Penney toy catalog, and I didn't want to rip that up. The Batwing toy corresponded with the release of Tim Burton's Batman during the summer of that year.
Here's the full list:
Acclaim Wireless Infrared Remote Controller for NES
Lobo IX Remote Controlled Car
Batwing toy
G.I. Joe Figures
Sega Master System
Nintendo Game Boy
Super Mario Land
I received only two of those items for Christmas that year: the Batwing toy and some G.I. Joe figures. My dad bought me a used Game Boy at a flea market during the summer of 1990, if I recall correctly, and I finally got my hands on a Master System during my early collecting years — somewhere around 1994-95.
But I still don't have a Lobo IX RC car, and I'm fine with that.
[ From Benj's Christmas List (Vol. 1, Chapter IX), 1989 ]
Discussion Topic of the Week: Which game consoles have you received as Christmas presents — and when?