March 24th, 2014 by
Benj Edwards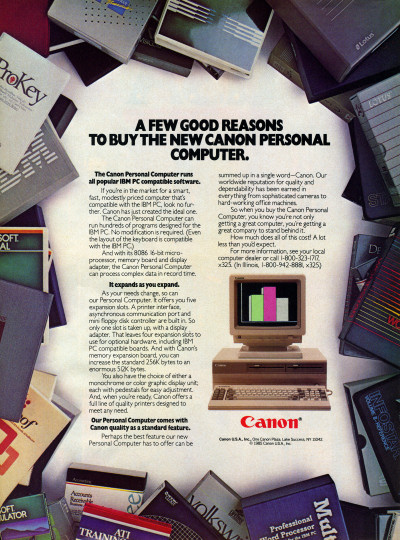 May the Clone Wars begin.
Here's another obscure IBM PC clone from the depths of time, the Canon Personal Computer.
As I mentioned in a recent RSOTW, it was pretty easy — even within a few years of the IBM PC's release — to undercut IBM price-wise by integrating ports and peripherals directly into the motherboard of a competing computer.
Note that the Canon PC used an Intel 8086 CPU, which packed the full 16-bit data bus (verses the 8-bit bus on the IBM PC's 8088).
[ From TIME (Small Business USA Insert), May 6 1985, p.2]
Discussion Topic of the Week: Canon is best known for its imaging products, but it made computers too. Can you think of any other companies best known for something else that made a PC?