July 14th, 2014 by
Benj Edwards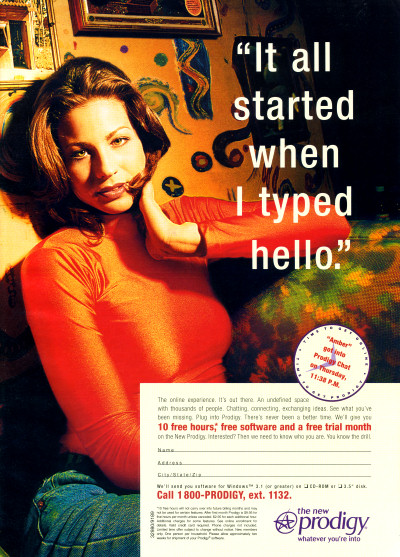 You can't see her other hand, but it's holding a gun!
It's a Prodigy-y week around here thanks to my recent article on The Atlantic. So I poked around my scans directory for something Prodigy related, and ka-pow!
I have yet to see an ad for the pre-ISP Prodigy in any of the magazines in my sizable archive (but then again, most of my computer magazines date from before and after Prodigy's heyday, with a gap in the middle), but I did find this "New Prodigy" ad from an old issue of Internet World, which I proudly subscribed to for a few years in the mid-1990s.
Ads like this one represented a new marketing push at time when the company sought to find a new corporate parent and shifted its focus to being an ISP (its legacy NAPLPS-flavored content was soon re-branded "Prodigy Classic").
By the way, the "original" Prodigy had a wholesome, family-safe, squeaky clean image, with an army of moderators eager to censor any bulletin board postings or even emails (yes, they read, or at least filtered, everyone's emails) that contained a hint of sexuality, so I find it humorously ironic that the company ultimately resorted to a sexually-charged ad like this one.
[ From Internet World – February 1996, insert between p.32-33]
Discussion Topic of the Week: Did you meet a romantic partner online prior to the year 2000? (Including those that didn't involve physical relationships.) Tell us about it.