July 7th, 2014 by
Benj Edwards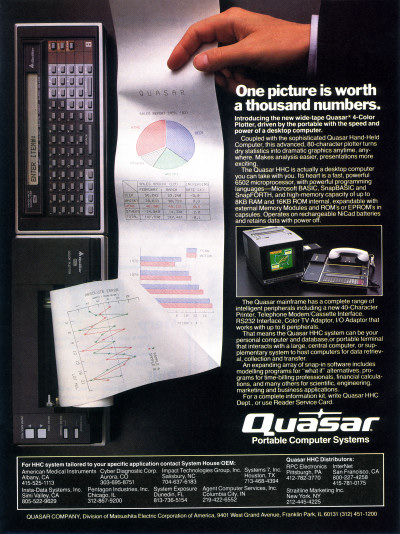 "One Picture is Worth a Thousand Numbers"
I've never used or seen a Quasar Hand-Held Computer in person, but I am a big fan of the similarly-sized TRS-80 Pocket Computer, which I've written about a number of times on this site.
According to this ad, one of the unique features of the Quasar HHC was that you could hook it up to a large color monitor if you had the right expansion accessory. That reminds me of the TRS-80 Model 100 Disk/Video Interface. Pretty cool. I bet the software that utilized that feature was extremely rare, though. I'd love to see it in action.
—
See Also: BASIC in your Pocket (RSOTW, 2009)
See Also: Asimov's Pocket Computer (RSOTW, 2011)
See Also: Sharp Pocket Computer (RSOTW, 2013)
[ From Popular Computing – December 1982]
Discussion Topic of the Week: What's the smallest pre-year 2000 computer you've ever owned?