April 2nd, 2012 by
Benj Edwards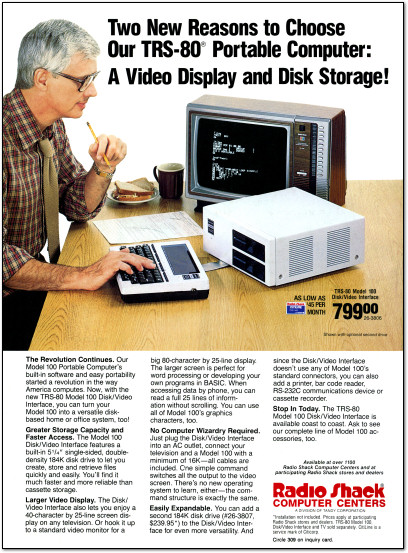 You can't tell from the photo, but this table is actually 200 feet wide.
Since I bought my first Model 100 over a decade ago, I've always wanted the TRS-80 Model 100 Disk/Video Interface (a device we see here in this 1984 advertisement) to go with it. The interface not only allows you to hook your Model 100 to a TV set or monitor (80 x 25 text display!) but it also provides two floppy disk drives on which you can store your data.
In other words, that's quite an expansion for a computer with an 8 x 40 character display and minimal RAM-based user storage that loses its contents with battery failure. It essentially converts the Model 100 — which is a light, portable machine — into a desktop PC.
[ From BYTE Magazine, April 1984, rear cover ]
Discussion Topic of the Week: Have you ever set up a desktop computer on your kitchen table? Tell us about it.