March 26th, 2012 by
Benj Edwards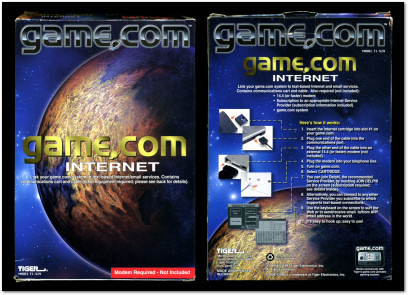 Tiger Game.com Internet Module Box
Two years ago, I posted a scan of the Tiger Game.com instruction manual. Today, I bring you the box for that console's little-understood Internet cartridge, released in 1997.
The box you see above included a Game.com serial cable (which allowed the console to be hooked up to an external RS-232 Hayes compatible PC modem) and a cartridge with the "Internet" software on it. In truth, the cartridge contained little more than ASCII text-based terminal emulator software.
In my previous Game.com Retro Scan, I described the Game.com's Internet connectivity, which I will quote below:
The Internet on the Game.com wasn't nearly as exciting as it sounds. Sure, it supported "checking your email" and uploading high scores to the Tiger website, but a user had to access the 'Net through a text-only terminal emulator cartridge — and then only via a serial cable that linked to a stand-alone dial-up modem.

It was a messy business. Being text-only, the user had to type in commands to whatever ISP the user chose (assuming they provided shell access) with the stylus on a tiny on-screen keyboard. Tiger did provide its own ISP that made the process slightly more user friendly. While far from practical, having a terminal emulator was an amusing capability. I used the Game.com call some BBSes around in 1997 for a chuckle.
As you can see, the Game.com's Internet feature wasn't very practical or useful, but it certainly serves as an amusing footnote in game console history.
By the way, Tiger once offered (or planned to offer) its own Tiger brand external modem for use with the Game.com. I'm not sure if it ever made it intro full production, but it is extremely rare either way. If anyone out there has seen one, please let me know.
[ From Tiger Game.com Internet box (module 71-529), circa 1997 ]
Discussion Topic of the Week: What was the first video game console you bought that could communicate with the Internet?