June 21st, 2010 by
Benj Edwards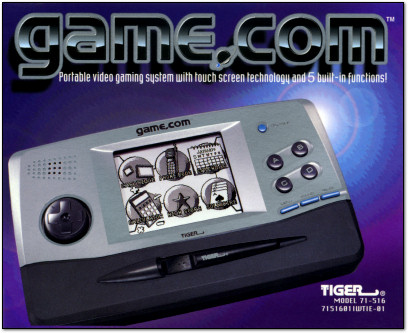 The original touch-screen game system.
Pop quiz: which video game console first featured a touch screen? (Hint: It's not the Nintendo DS.) How about this one: Which handheld console first supported Internet connectivity?
Believe it or not, Tiger Electronics — a toy company famed for its cheap electronic games — came in first on both counts with the Game.com in 1997. (Sega Saturn was the first home console to support Internet in 1996).
I was a Game.com early adopter, having bought one close to its release. The wonder of its primitive touch screen alone seemed to make up for its deficiencies at the time, so I was pleased at first. The unit shipped with a built-in version of Klondike Solitaire and a Lights Out game cartridge, both of which showed off the system's touch capabilities well. But my infatuation with the Game.com turned out to be brief.
As I bought more games for it (almost all from the clearance bin at Toys "R" Us), I began to realize that every single one was terrible. The screen was muddy and blurry and the games were slow and choppy. It soon became apparent that Tiger was aiming for its usual low-end of the electronic gaming market by focusing on low cost (both in development and hardware) verses quality.
The Internet on the Game.com wasn't nearly as exciting as it sounds. Sure, it supported "checking your email" and uploading high scores to the Tiger website, but a user had to access the 'Net through a text-only terminal emulator cartridge — and then only via a serial cable that linked to a stand-alone dial-up modem.
It was a messy business. Being text-only, the user had to type in commands to whatever ISP the user chose (assuming they provided shell access) with the stylus on a tiny on-screen keyboard. Tiger did provide its own ISP that made the process slightly more user friendly. While far from practical, having a terminal emulator was an amusing capability. I used the Game.com call some BBSes around in 1997 for a chuckle.
Overall, the Game.com has its amusing eccentricities — like built-in Solitaire and the whole modem thing — but 99% of its games were horrible, horrible travesties of programming. It's no surprise that I named the Game.com as one of the "10 Worst Video Game Systems of All Time" for PC World last year.
(By the way, if anyone owns the Tiger brand Game.com modem, please let me know.)
[ From Tiger Game.com Instruction Manual, circa 1997 ]
Discussion Topic of the Week: In your opinion, what are the best games for the Game.com?