October 13th, 2014 by
Benj Edwards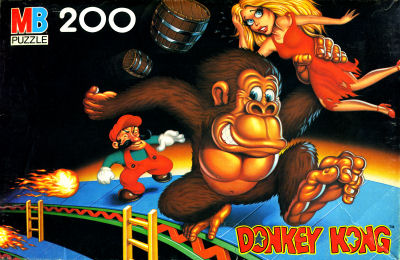 That is one dangerous and sexy construction site
When it comes to vintage 1980s puzzles, few can beat the sheer cultural nostalgia value of this 200-piece Milton-Bradley Donkey Kong puzzle, which comes straight from my childhood. This is a scan of the front of the box.
It's not often that I find a true surprise lurking in our old family toys, but I had completely forgotten about this puzzle until I ran across it in the back corner of my mom's attic a few months ago. Memories of poring over the lush, vibrant artwork on the box rushed back to me as I pulled it from where it had lay, dusty and neglected, for 25 years.
Look at the highlights, the curves, the gradients. The richness.
Luckily for me, all the pieces were still in the box, so I have now re-assembled the puzzle and framed it. It will never be lost again.
The artwork for this puzzle no doubt echoes the side cabinet art of the Donkey Kong arcade machine, but with added detail and an airbrushed vividness. I think it would make an awesome poster — does anyone know who the artist was?
By the way — even though I find it insanely difficult at times, the original Donkey Kong is one of my favorite arcade games. It was also one of the first video games I ever played, courtesy of a port to the Atari 800.
P.S. Pauline is way hotter than Princess Peach.
[ From MB Donkey Kong 200 Piece Puzzle Box – circa 1982-1983, front]
Discussion Topic of the Week: In your opinion, which is better: Donkey Kong Jr. or Donkey Kong 3?