April 1st, 2006 by
Benj Edwards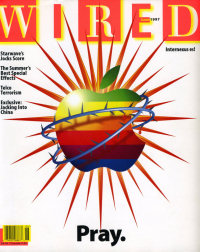 Today is the the thirtieth birthday of perhaps the world's most iconic personal computer company, Apple Computer, Inc. We almost lost her back in 1996 when she was at her all-time low. Rumors of Apple's impending collapse, or even the embarrassing possibility of a desperate sale to another company, were everywhere. But just in the nick of time, Steve Jobs made his triumphant return and turned the company completely around. In 2006, Apple is actually more profitable than ever before (thanks to the iPod) — even more so than during the height of the Apple II days.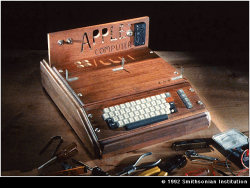 The machine that founded the company, the "Apple I," is pictured on the left in a homemade wooden case, as seen at the Smithsonian Institution. I downloaded the picture from Compuserve back in 1992, and it's always been one of my favorites, despite its grainy GIF quality. I thought about planning some more Apple-related features today, but so many others have done it so well already. Check out these interesting articles that Wired has put together on the whole event.
Never before or since has a company put so much soul into a computing machine, and I'm proud to say that I have loved and used many Apple computers in my short time on this planet. Join with me in toasting Apple, a true pioneer in the PC industry, on their big day. I'm really glad you made it this far, Apple. Here's to another thirty years of incredible success and continued innovation!