March 9th, 2015 by
Benj Edwards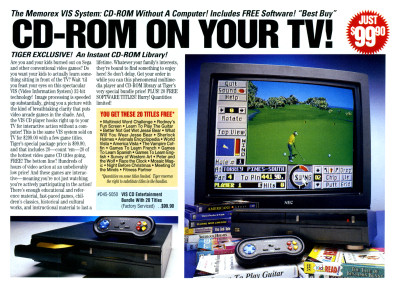 CD-ROM ON YOUR MOTHER LOVIN' TV!!
Back in 2009, I made a list of the worst video game systems of all time for PC World, and the Tandy Memorex Video Information System (1992) was #2 on the list.
Six years later, I am not fond of dishing out bad vibes toward any game console. But the VIS was indeed an underwhelming commercial product.
And honestly, calling the VIS a video game console is a stretch. As more of a multimedia appliance than a straight up "video game system," its lineage lay half-way between game machine and general purpose PC. Its designers intended it to run educational software as frequently as games.
For fans of odd an interesting systems, the VIS definitely stands out. Under the hood, it sported a modified PC architecture based on an Intel 286 CPU and a custom embedded version of Windows called "Modular Windows." In addition, the VIS allowed storing data on removable memory cards that plugged into the front of the console (a feature that, in game consoles, arrived second only to the Neo Geo, I believe).
Of course, ever since I saw this section of a 1995 Tiger Software catalog (Tiger had apparently bought up a clearance stock of the machines — see also this scan of the Jaguar CD in a Tiger catalog), I wanted a VIS regardless of its faults. While I have used them before — including some in-store demos at Radio Shack — I still do not have one in my collection.
[ From Tiger Software CD-ROM Buyer's Guide – Vol. V Issue 6, 1995, p.56 ]
Discussion Topic of the Week: Did you own any CD-based game consoles from the multimedia console era? (i.e. CD-i, VIS, 3DO, CDTV, Jaguar CD)