April 18th, 2006 by
Benj Edwards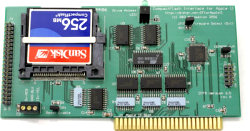 I've never been a huge fan of using emulators for any computer that I actually physically possess. The original hardware is almost always where it's at — the unique look, the feel, and even the smell of a machine all add to the "authentic" user experience (kinda makes me sound like a wine snob, doesn't it?). But original hardware breaks over time and sometimes becomes irreplaceable since it's no longer in production. That's where people like Rich Dreher step in with modern upgrades for vintage computers (for more on this phenomenon, check out my "New Tech for Old Computers & Game Systems" list).
Rich is now on the second revision of an impressive Apple II hardware add-on card he designed called the "CFFA" that enables any Apple II system to use a compact flash card, IBM MicroDrive, or IDE hard drive for storage. While definitely not the first Apple II IDE interface I've seen (or owned), this is a very slick piece of hardware. Here's a brief rundown of its features, taken from the official site:
Standard Apple II form factor Card 3″ x 6″ (Usable in any slot, except slot 3 in IIe and later)
A Compact Flash/IDE Interface for Apple II family of computers (Type II Compact Flash socket — IBM MicroDrives work too)
Standard 40 pin IDE header connector
3 terminal screw type power connection for IDE hard drives
Support for up to 128 MB (4 drives) or 256MB (8 drives) under ProDOS and GS/OS (without Dave's GS/OS driver)
Support for up to 128MB, (four ProDOS 32MB drives) plus two 1GB drives under GS/OS (with Dave Lyons' GS/OS driver)
On-board EEPROM for SmartPort firmware
User jumper to select 1 of 2 versions of the firmware
Allow booting ProDOS or GS/OS directly from the Interface card (for a floppy-less system)
Firmware available for 6502 machines (II, II+, IIe) and 65C02 machines (IIe enh, IIe platinum, IIgs ROM1 & ROM3)
Particularly attractive is, of course, the built-in CF socket. I recently read on Rich's site that there's even a new utility called "CiderPress" that will let you transfer files to / from the Apple II-formatted CF card when it's plugged into a Windows machine!
Despite all its neat capabilities, what is actually most important about this card is that it's actually for sale (currently US $105 plus shipping). Extremely unique short-run hardware doesn't stay around for very long, so if you're interested, don't hesitate to jump on it while you still can. I've already got mine on order and am looking forward to running my Platinum IIe from a compact flash card soon.