May 10th, 2016 by
Benj Edwards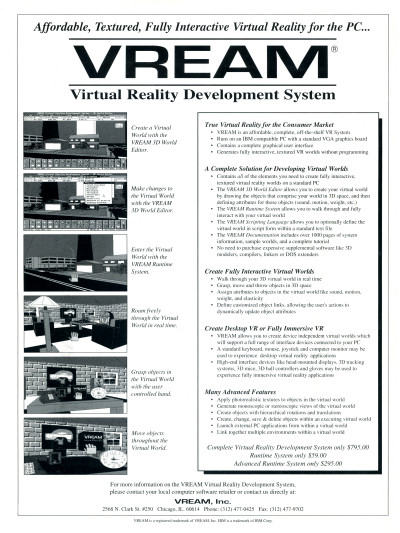 If it's as easy to use as it is to pronounce, then I want it.
I was so excited about PC-based virtual reality back in the 1990s. I remember reading the early Web (circa 1995-96) about how people would build their own HMD goggles and modify a NES Power Glove to use as input for certain VR software packages. I wanted to do that too, but never did.
I also played some shareware 3D world demos where you could walk around a polygonal-3D town (and prior to that, I had vivid dreams about jumping into a 3D computer-generated world that looked like the Money for Nothing Dire Straits video).
Apparently, VREAM made some of those 1990s VR demos possible. It was a PC-based virtual reality development system created by VREAM, Inc. of Chicago. I have never used it, but it looks neat.
This ad comes from the back cover of an issue of PCVR magazine that I got from a relative. You can read more about that in this Retro Scan from 2014.
[ From PCVR, January-February 1994, back cover ]
Discussion Topic: Did you use any 3D modeling software in the 1990s? Tell us about it.
—
See Also: