August 1st, 2006 by
TheGameCollector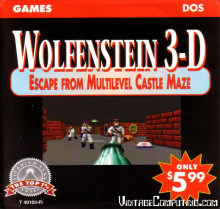 [ Eric Lambert is the owner of an impressively large collection of PC software. I'm happy to welcome him to VC&G with his first contribution. — RW ]
Imagine my delight this week when a job lot of vintage games I won on eBay came with seven — count 'em, s-e-v-e-n — Softkey Titanium Seal shareware games still in their original packaging. Such forgettable classics as VGA Slots and Stellar Defense II and… hold on a sec, what's this? Wolfenstein 3-D? The great-granddaddy of the FPS? Sure enough, my eyes did not deceive me, Wolfenstein 3D Shareware, complete with the laughably generic subtitle "Escape from Multilevel Castle Maze." Reading the description on the back of the package, I try to remember that when this was hanging on a hook at Babbage's, people probably had no idea what to expect from it. The genre was, for the most part, still in its infancy, and the technology was cutting-edge. The warning at the end is classic: "This game is not for the faint of heart." I wonder if the guy who wrote that copy ever went on to play Carmageddon, Postal, or GTA 3.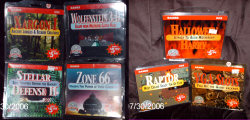 Now look at all the hit games also available from Titanium Seal. There's…um…I guess Duke Nukem II kind of led into Duke Nukem 3D and the whole Quake revolution in shooters, but really, Wolfenstein was the big hit of the bunch, propelling id Software into its Doom phase. How many of the folks at SoftKey do you suppose gave Wolfenstein a second glance at the time? How many people involved in its publication had any idea of the impact it would have on gaming? How many careers do you think that one title launched? More than enough to make up for all the lost bets on the other titles? I remember playing some of them, and they were great games, but they never took off like Wolfenstein did. This Multilevel Castle Maze did what nobody really could have predicted — it revolutionized not only the way we play games, but the industry as a whole. It opened up new technologies, new styles of play, and a whole new level of marketing, an influence we can see in the online distribution models (like Steam) that are currently increasing in popularity.
And all for $5.99 (US). What a bargain!