August 4th, 2006 by
Benj Edwards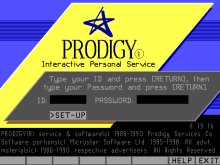 When I was but a wee lad, I begged my father to sign me up for Prodigy. I loved BBSes and wanted to try Prodigy so badly. On Christmas 1992, I finally got my wish: an orange cardboard box emblazoned with a blue star appeared under the Christmas tree. One hour (and one father's credit card charge) later, I was online. Overall, I was mostly underwhelmed with the service and my subscription didn't last long, but there was one thing I really liked about it: the games.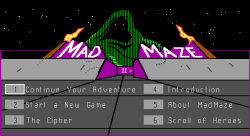 Many of you probably know of Prodigy, a pre-"popular Internet" era commercial dial-up online service that utilized copious amounts of NAPLPS graphics in its client interface. And one of the best applications of this rarely used, bandwidth- friendly graphics protocol was Eric Goldberg and Greg Costikyan's very popular Prodigy adventure game, MadMaze.
Thanks to the hard work of Russ Brown, nostalgiaphiles like me can relive their glory days with MadMaze-II, a meticulous recreation of the original MadMaze game on the web via HTML. It's been online since 2001, but I just stumbled across it recently and thought I'd share it with you. MadMaze-II plays almost exactly like the original; the only down side is that it requires Internet Explorer to play. Still, if there was ever a reason to dust off IE (for those of you who have gone on to greener pastures), this is it.
I love the innocent graphical style of MadMaze so much that I've even created a desktop background based on the MadMaze artwork. It's available in two sizes: 1024×768 | 1280×1024.
Here are some more screenshots from the game:
Play MadMaze-II online here (Requires Internet Explorer).
[Update – 07/31/2011: I changed the links pointing to MadMaze II from "http://pages.prodigy.net/rdbrownmsb/MadMaze2/" to its new location. AT&T shut down the "Prodigy Personal Web Pages" service that hosted MadMaze II as of June 1st, 2011.]
[Update – 02/19/2013: The author of MadMaze-II, Russell D. Brown, passed away on July 1st, 2012. In 2011, I asked Russell to send me the code to MadMaze-II in case the game ever went down. Well, it has, so I have set up a mirror of the game on vintagecomputing.com at this address: https://www.vintagecomputing.com/madmaze/. As far as I can tell, it seems to be working fine. I have updated the links in the article above to this new location. I also wrote a larger post about this update.]