September 14th, 2006 by
Benj Edwards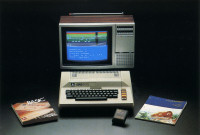 What was the first computer you ever used? Was it a mainframe? A hobby kit? An early consumer PC? An IBM clone? I've heard numerous neat stories of people's first experiences with computers since starting Vintage Computing and Gaming, but here's your turn to share one of your own. Tell us about your "first time" with a computer. What kind of computer was it? Where were you when it happened? Was it the first computer you ever owned? Post a comment telling your story, and let us know. I'd love to read them.
I think the first computer I ever used was an Atari 800. My father bought one as our first family computer, but it ended up mostly being used to play games (but some great games). My brother learned to program BASIC on the machine, and he's a professional programmer today, so it was definitely a valuable experience for him. Aside from playing games on it, my use of the 800 was limited to loading game binaries off of disks in Atari DOS, or perhaps even loading a BASIC program my brother had written. To this day, the Atari 800 is my favorite vintage computer because of the nostalgia it evokes for me personally.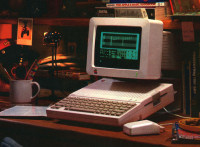 The next machine I ever interfaced with was probably an Apple II that my father had built himself by hand from a schematic using bootleg Apple II ROMS (quite a popular practice at the time, as it turns out). I don't remember if I did much with it, so my mind moves on to the Apple IIc we had later. We had a mouse for it — a peripheral I was unfamiliar with up to that point — but I absolutely delighted in using Apple MousePaint to draw pictures. It was so much fun that I was distraught when my father finally sold the Apple IIc, likely to get our Atari ST.
The first computer I ever felt like I "owned" was an Apple II Plus that my father bought for me (for probably about $20) at a local hamfest around 1990. It was my computer alone, and I was proud of it. He bought it as a starter computer so I could learn to program BASIC — and program BASIC I did. I filled up disk after disk with programs I had written (mostly novelty programs until later), and I had a blast with it. Not surprisingly, the Apple II still occupies a soft spot in my squishy guts today because of the experience.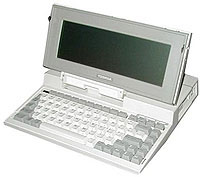 The first MS-DOS computer I ever learned to use was a Toshiba T-1000 laptop, one of the first clamshell LCD display-based MS-DOS laptops of its kind (some say it's the first, and they're probably right). My brother taught me how to boot it up, type "dir" to see what was on a disk, and type "tetris" to run…Tetris. Not too complicated, I know, but it was a major milestone for me, as it cracked open a whole new world of IBM PC-compatibles. Not long after that, I had my own PC-compatible and was BBSing up a storm. But that's another story entirely, for another day.
For now, tell us your story.