September 21st, 2006 by
Benj Edwards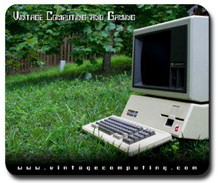 No, I'm not starting a lame VC&G merchandising blitz. I designed this mousepad as the prize for the winner of our first ever RSoTW caption contest that took place a few weeks ago. The winner received her mousepad yesterday and was extremely happy with it. Instead of taking it offline, never to be seen again, I asked her if she'd mind if I shared it with others. She responded, "I would not mind at all if you sell the mousepad design. You should be proud of it and show it off all you can." And so, because of that, and since I'm fond of CafePress's quality (I have a number of their mousepads in use at the moment), here it is.
The photo on the mousepad is pun-tastically entitled "Apple Free." As you can see, it's of the ill-executed Apple III computer system sitting in "in the rough" — a picture I took myself in July or so, when it was so ridiculously hot and humid that I nearly slipped down a low-grade hill and drowned in a river of my own sweat.
I was really reluctant to post an entry about this, since it might seem like an attempt at merchandising — not to mention that everybody and his brother can sell mousepads on CafePress. But it should be known that the price for the mousepad is set at CafePress's "base price," which means that I will not make any money on it. None, nada, zilch. I just wanted to share it with you guys in case someone out there was interested in buying one before I took it down. I might change the mousepad design every once and a while, so get it while it lasts — if you dare!