September 22nd, 2006 by
Benj Edwards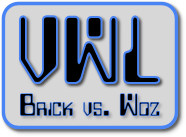 Ah…it's Friday again; time to have some fun. In our inaugural match of the recently formed (some 5-10 minutes ago) VC&G Wrestling League (or VWL, if you will), we're pitting two of personal computing's most auspicious luminaries against each other in a no-holds-barred "battle of the grizzled." Who will come out on top? Let's take a look at our contenders:
So it's a classic battle between hardware and software gurus in our first fight! Best of all, both of these men are perennially known as being really nice guys, so how will that affect the match? Will they just shake hands and call it off, or will they ruthlessly nice each other into submission? Will Brick trick Woz with a stick to the ribs, or will Woz smack Brick with a Mac to grab the upper hand?
Who will win this epic battle? I have no idea, you tell us!