November 16th, 2006 by
Benj Edwards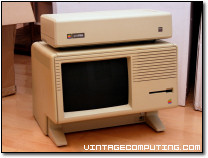 I've wanted an Apple Lisa since I first set eyes on one around 1994 in my middle school library. I was studying there with a class when I spotted an exotic-looking Apple machine sitting on a cart across the room. After puzzling for a bit, I realized that it must be an Apple Lisa, an almost mythical machine that I had read about in The Journey is the Reward, but I had never even seen a picture of until then.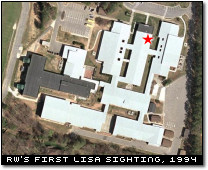 I had already been collecting computers for at least two years when I saw the machine, and I was always on the lookout for more additions to my collection. I had heard of a little-known machine called the "Lisa" that Apple released somewhere between the Apple III and the Macintosh, but I had never seen or used one. So when I spotted the Lisa in the library that day, it was an epiphany to me — the Apple story was vividly coming together in my brain. Knowing that the Lisa (a Lisa 2, as it turned out) in the school library was obsolete, I feared that the librarians wouldn't know what to do with it and would throw it away. I had to take action, but I was painfully shy, and I was only about thirteen or fourteen years old. I was afraid to ask them about the computer because I figured they wouldn't take me seriously. So I convinced my mother (the best mom ever) to drive back to the library after school and ask the librarians if we could buy the Lisa from them. The librarians had to decline the offer, since it had been donated to the library and was property of the county school system. Sadly, I fear that the Lisa in the library probably met a nasty fate not too long after that incident — a victim of short-sighted middle school bureaucracy.
Keep in mind that, up until the recent explosion of popularity and coverage of vintage computers on the Internet, reliable information on them was extremely scarce. In 1994, there were no microcomputer history books from major publishers in any library I visited (even university libraries), and there were very few websites about them in the early years of the WWW. In fact, nobody really cared about old computers at all, except perhaps the holdovers who actually still used them on a daily basis for word processing and the like. That's where my first online information about old computers came from: user group forums for Atari and Commodore computers on CompuServe. To the people on those forums in the early 1990s, the machines weren't considered "vintage" or "classic," they were just the tools they used every day to get things done. And to everyone else, vintage computers weren't honored, revered, or even appreciated. In our fast-changing disposable society, they were typically regarded as worthless, obsolete hunks of scrap metal. I started collecting computers because I feared that otherwise, in that kind of environment, valuable historical information would be lost.
After that first encounter with the Lisa, I dedicated my collecting life to acquiring one. It was my Holy Grail, the one item that would drive me to keep searching flea markets, thrift shops, and hamfests for over twelve years. I had a close run-in a few years later at a hamfest with a working Mac XL (a Lisa 2 converted to run Macintosh software). Because of that conversion and the price tag (about $110 US, as I remember it), a friend of my family talked my father out of buying it for me. It made sense at the time, though — $100 or more was a hefty price to pay for any obsolete machine, considering most of the computers I had bought at in the past were purchased for around $20, $10, or even less. Still, I regretted that decision for quite some time because, despite years of searching afterward, that was the last Lisa I ever saw…until now.
We Met at the Festival
As most of you probably know, I was in the Silicon Valley area a week and a half ago for the Vintage Computer Festival 9.0. If there's anywhere in the world that you're going to find an Apple Lisa, that's probably it. While I was there browsing VCF 9.0's exhibition hall and marketplace, I spotted the Lisa 2 you see to the right sitting all by its lonesome on the corner of a long table. There was another Lisa 2 for sale there that was all junked up, but the seller wanted way too much for it, so I went back to the first one. The Lisa pictured here was in great cosmetic shape, but the I/O board and motherboard were corroded by leaking clock battery acid, which is apparently a very common problem in Lisas. The damage wasn't all that bad, however, and the asking price ($200 US) was fair considering its condition and the fact that the price included an Apple Profile hard disk unit and an original Lisa Mouse and Lisa Keyboard in incredible shape. I negotiated the price for a while and could have gotten it for a lot lower if I hadn't been in a hurry, but in the end I just bit the bullet and paid $200 to its friendly owner so I wouldn't miss my only chance at a decent Lisa for a long time to come. The deed was done, but there was only one problem: I live in North Carolina, across the country from California, and I flew over for the festival. How would I get it home?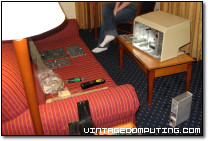 The problem of moving a Lisa 2 cross country wasn't as much of a problem as I thought, although it nearly took a whole day of my vacation to make it happen. First, I disassembled the Lisa main unit and separated the corroded parts so they wouldn't contaminate anything else. Then I took out the power supply and all the boards so the main display unit would be as light as possible. Then I took the main unit to a UPS Store in Mountain View and had them pack it up for me and ship it back to my house via UPS ground. While I was there, I bought a few boxes and packing materials for the other parts. I got back to my hotel room and wrapped up the Profile drive in many layers of bubble wrap, foam peanuts, my dirty clothes from the vacation, empty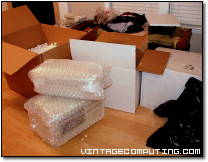 pizza boxes, and whatever else I had on hand for padding. Then I took it back to the UPS Store and had it shipped home. The rest of the stuff — including the power supply, card cage, keyboard, and mouse — I managed to pad sufficiently and cram into my checked baggage. I can only imagine how airport security reacted when they saw a bunch of weird looking electronics packed with dirty clothes in a suitcase. Either way, everything got through, and I arrived home safely. Two days ago, my two Lisa packages arrived, which you can see, mid-unpacking, in the picture above. Thankfully, everything arrived undamaged and in one piece. The Lisa, after a long trip, was home at last.
Unfortunately, the packing material for the Lisa 2 generated a lot of trash. In my quest to keep the resulting mountain of Styrofoam packing peanuts away from my mischievous cats, I placed two big boxes full of the
evil S-shaped capsules of environmental havoc
on my canopied deck. A surprise knock-out storm last night conveniently scattered a thousand of them across my back yard. If you don't see me around for a while, you'll know why: I'll be busy picking them up over the next few years.
Sometimes getting a Lisa is like doin' time…but it's oh so worth it.
The Journey Continues
So what do I do, where do I go, what do I seek now that my long-standing goal has been attained? Should my thirteen-year computer collecting journey come to an end? Of course not. After all, I still have to track down some parts and put a lot of work into making that little Lisa 2 sing again. That's the most fun part of collecting: if the Lisa 2 had worked perfectly to begin with, then it would be boring compared to the challenge of fixing it up. The journey is the reward. And even though I've found a Lisa 2, there's still a lot out there that I haven't found — like the Lisa 1…