November 17th, 2006 by
mgroves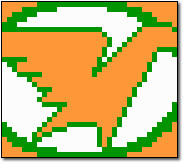 Hello, Matt Groves here from mgroves.com. RedWolf thought that the recent Name Those Pixels contest I ran on my blog would make a great weekly feature here at Vintage Computing and Gaming.
So welcome to the first Name Those Pixels contest, VC&G edition. The object of the challenge is to guess which video game the pixels (shown in the image to the right) come from. If necessary, I will provide clues in the comments if no one is coming close, but based on the guesses I got the first time I did this, there are a lot of clever people out there who will get this right away.
To play, write your guess in this post's comments section. The answer to this week's challenge won't be revealed until next week. I only ask that if you know the answer for sure, please don't spoil it for everyone else by linking to a full screen shot of the game.
To start you off, here is your very first hint: this is a U.S. NES release.
Enjoy! –mgroves