December 15th, 2006 by
Benj Edwards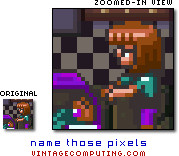 Hey there, folks. Welcome back to Name Those Pixels! Unfortunately, mgroves has gone AWOL on me this week, so it's RedWolf here filling in.
Are you ready for the next challenge? Last week was pretty easy, so I decided to make this week a tad bit tougher. As a tiny hint, two of the pixel blocks are from the NES, and one is from a SNES game. The first one is on the right, and the other two are down below. As always, post your guesses in the comments section of this entry, and don't be bashful. Good luck!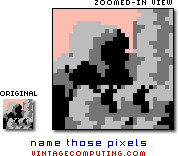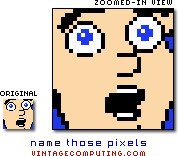 Last Week's Answers
Unfortunately, I don't have the pictures of last week's answers, since mgroves was the one who captured them and he hasn't sent the full shots or the answers to me. But I do know at least two out of three of the answers. Item #1 was Barnstorming (Atari 2600), Item #2 was a Mega Man game (not sure which one, because I don't have the original shot), and Item #3 was Earthbound (SNES).