April 30th, 2007 by
Benj Edwards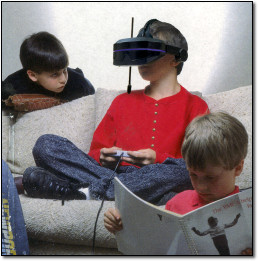 There was a time in the early 1990s when "Virtual Reality" via bulky goggles strapped to your head seemed like the promise of the future. Video game console manufacturers like Atari, Sega, and Nintendo all dipped their toes into the virtual reality waters, but none devised a practical and cost-effective solution. Those attempting to create affordable consumer VR headsets encountered common problems: a true stereo display using two high resolution color LCD screens and motion tracking was too expensive, and even high quality goggles caused serious motion sickness and disorientation with many users.
Apparently VictorMaxx knew something that companies with multi-million dollar R&D budgets didn't. They released the StuntMaster VR, a "3-D interactive virtual reality" headset with seemingly impressive motion tracking capability ("point-of-view instantly scrolls or rotates with the turn of your head!"). But alas, I own one, and I know that VictorMaxx only surpassed the competition in hyperbole and false advertising. The StuntMaster VR is a terrible piece of junk.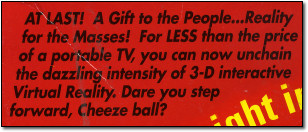 Imagine that: reality for the masses.
Dare you step forward, cheeze ball? Despite what the box says, the StuntMaster VR is not a 3D display. It contains one extremely grainy low resolution LCD screen in the center of the goggles. If you put it on, it hurts your face. The display singes your retinas with an intensely fuzzy,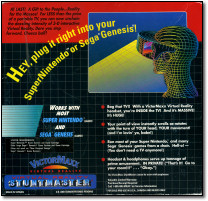 hard-to-focus-on image. The head tracking mechanism is nothing more than a stick you clip to your shoulder (see picture above) which slides through a loop on the side of the headset. When you turn your head, the StuntMaster detects the stick sliding in the loop and translates this into a left or right button press on a control pad, assuming you've actually hooked it up to the controller port of your SNES or Genesis. Remember the "point-of-view instantly scrolls or rotates with the turn of your head" quote? I'd love to see that happen in Super Mario World. Obviously, it couldn't actually work unless the game were programmed for that functionality in advance. Unless, of course, you're playing Doom and you want to turn left or right by moving your head.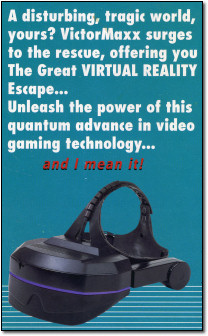 A disturbing, tragic world, yours? Then please, do not buy the StuntMaster VR headset. Mine was so useless that I took it apart about four years ago and wired up some connectors to use it as a tiny LCD monitor. Even then, the LCD screen's extremely low resolution makes it nearly useless. So now it spends most of its days sitting in its box, partially disassembled, reflecting on the good old days when plants were still green and the Lawnmower Man played out like a guaranteed guide to the future. I still want one of those springy mid-air virtual reality harnesses, by the way.
The StuntMaster headset makes me wonder how long VictorMaxx stayed in business. Who knows, we might hear from a former employee in time. Did anybody else have one of these, or any other VictorMaxx products? Leave a comment and we'll talk.
If you use these images on your site, please support "Retro Scan of the Week" by giving us obvious credit for the original scan and entry. Thanks.