December 11th, 2007 by
Benj Edwards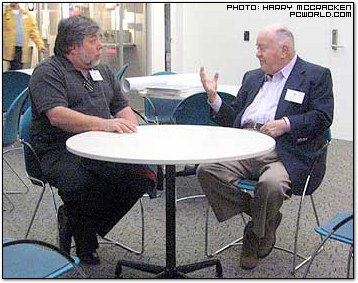 Last night, the incomparable Harry McCracken spotted Steve Wozniak and Jack Tramiel chatting right before they took part in a group panel on the 25th anniversary of the Commodore 64 at the Comptuer History Museum. Thinking quickly, McCracken snapped this photo — and what a photo it is.
For those of you who don't know, Jack Tramiel founded and ran Commodore until about 1984, after which he bought Atari's consumer division from Warner Communications, stewarding Atari in new directions. And Woz…well, Woz is Woz.
You can read more about the Commodore event on McCracken's Techlog at PCWorld.com. Wish I could have been there, but alas, I live on the east coast.