March 24th, 2008 by
Benj Edwards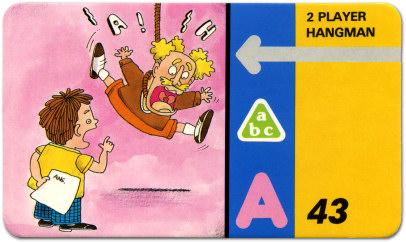 Exhibit A: Talking Whiz-Kid Program Card #43 (1987)
Nothing captures the childlike zeal and enthusiasm most kids have to murder grown adults like this illustration from 1987. A young boy mercilessly withholds the "answer" from a balding, middle aged man — ruthlessly toying with his life — while the innocent adult faces imminent death at the end of a hangman's noose.
And for what? I couldn't tell you. Is the enjoyment of a "game" worth a man's life? Maybe the answer lies somewhere in the deep, sordid archives of Vtech.
Discussion topic of the week: How many child players of Hangman grew up to be murderers?
If you use this image on your site, please support "Retro Scan of the Week" by giving us obvious credit for the original scan and entry. Thanks.