April 7th, 2008 by
Benj Edwards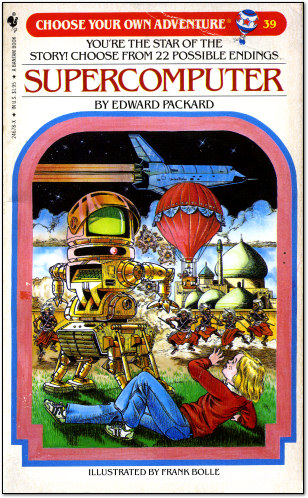 Front cover of Supercomputer by Edward Packard (1984)
While looking through some old boxes a few weeks ago, I stumbled across my brother's large collection of vintage Choose Your Own Adventure books. These books, as a series, were very popular in the early 1980s. Bantam published over 180 different Adventures from 1979 to 1998.
Each Choose Your Own Adventure book is similar to an adventure computer game. You read a few pages, and then you're faced with different paths that your character can take:
If you free Danny from the barn even though Uncle Grog might catch you, turn to page 23.
If you give up and throw your SuperTorch in the hay, turn to page 40.
The outcome of the story depends on your choices, and every book contains multiple endings.
One book in my brother's set stood out from the rest: Supercomputer, by Edward Packard (1984). It's an interesting artifact of the popular conception of computers at the time, echoing common 1980s fantasy themes involving 500 lb. CRT-display machines achieving sentience, starting a nuclear war, or simply doing all your homework.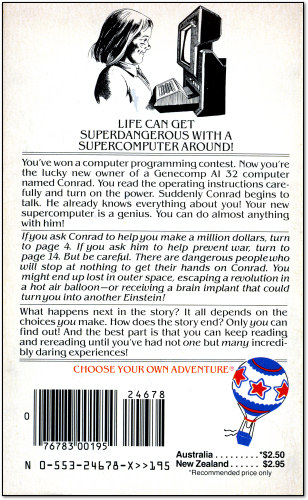 Back cover of Supercomputer by Edward Packard (1984)
The plot of Supercomputer centers on an extremely intelligent computer called the Genecomp AI 32. Your particular unit is named Conrad. Whether Conrad helps you solve crimes or brings the Army to your door is up to you. Overall, Supercomputer, like most of the CYOA books, is a fun read for both kids and adults that enjoy fantastic nostalgia. But you don't have to take my word for it.
"I like Choose Your Own Adventure books because they're full of surprises. I can't wait to read more."
–Cary Romanos, age 12
[Cue Reading Rainbow Theme Song]
Discussion topic of the week: Approximately what year do you think computers will take over the world?
If you use this image on your site, please support "Retro Scan of the Week" by giving us obvious credit for the original scan and entry. Thanks.