April 18th, 2008 by
Benj Edwards
Often we yearn to reclaim fond memories from childhood, but those memories remain just out of reach. Sometimes the event or object we're seeking happened so long ago that our recollections have become foggy or even distorted over time.
Well, in a way, that's why I'm here. As a historian, I like to help people reconnect with and rediscover the past. I regularly receive emails from people looking for information on games, toys, or computers that they haven't seen in years. Last week, I found another such email waiting in my inbox that left me stumped. That's why I'm turning to you, my wonderful readers, for help in solving the mystery.
The Mystery of the Toy Computer
A friendly fellow named Gowan McGland seeks help in identifying a childhood computer toy. He writes of his dilemma:
I remember as a kid in the late 1970s, perhaps early 1980s having a little computer kind of thing. It was all-in-one. I seem to recall it was blue and gray. It had a keyboard. The keyboard portion then had a neck that went to the display. The display was a rounded "head" with LED bulbs somewhat akin to LiteBrite pegs. I think there were overlays you could put over the bulbs. I remember you could play some games with it and you could also do little simple animations. You could program the LEDs to light up in sequences and then the device would replay the sequences in order and animate whatever you had "drawn" with the LEDs. It came completely assembled to the best of my recollection.

I have no idea what it was called. I honestly have no idea how to search for it online since my recollection is vague at best.

Anyone have any idea what I'm talking about?
So, here we pick up some key clues: (a) it was probably manufactured around 1978-1983; (b) it used large LEDs for a display; (c) it was programmable; (c) it had a keyboard; and (d) it didn't come in kit form. The other details might be hazy, so it's best to go with the basic elements first.
You have to remember that many details of a person's memory can be inaccurate, so if something matches the description 70-80%, it might very well be the item we're looking for.
Police Sketch
Gowan included a sketch of the device, which you can see below.
I'm clearly not an artist, but here's some indication of what the device looked like. It's not to scale and the number of buttons and lights is highly inaccurate, but it's the best my 30-some-year memory can do.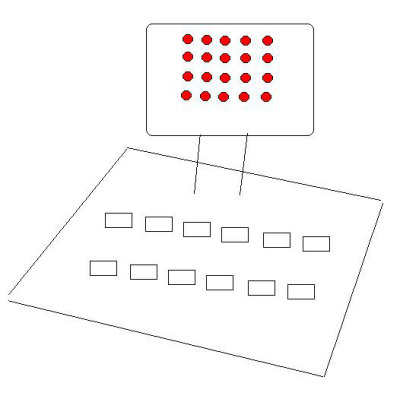 So far Gowan says that he's ruled out the Alphie, the VTech PreComputer 1000, the Talking Whiz Kid, and the Computron.
So what do you guys think? Any ideas? If so, please leave a comment on this post. Gowan will be checking out your responses, so he might be able to clarify some things if needed. The game is afoot!
Update: 04/20/2008
Success! Thanks to the help of our intrepid readership and Ed Kearn, we now have a picture of the T.E.A.M.M.A.T.E. computer: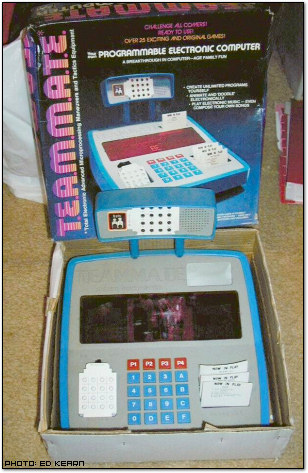 Special thanks goes to Ed for sending it our way. He writes:
Benj, I did find a photo–attached. Feel free to share it. I'm afraid I've got that packed away in storage and can't get my hands on it easily–or I'd try to get more info for you. Don't remember much about it–just bought it on eBay in 2000.
According to the box in the picture, T.E.A.M.M.A.T.E. stands for "Total Electronic Advanced Microprocessing Maneuvers and Tactics Equipment." Quite a mouthful, eh?
Thanks to Layne, we know that a company called "Logix" released the T.E.A.M.M.A.T.E. around 1980. We also know that, sadly, the unit wasn't truly programmable (according to Consumer Reports). Still, I'd love to take a peek inside the T.E.A.M.M.A.T.E. and find out what makes it tick.
For the latest developments, check the comments below.
—
Have a memory of a computer, video game, or electronic toy you need help identifying? Send me an email describing your memories in detail. Hopefully, the collective genius of the VC&G readership can help solve your mystery.