July 25th, 2008 by
Benj Edwards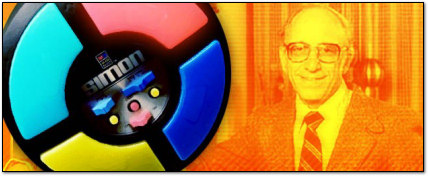 Like an alien mothership come home, a small flying saucer surveyed the pulsing, Technicolor scenery of Manhattan's trendy Studio 54 dance club. The saucer, a four-foot replica of a mysterious electronic toy, hung overhead in preparation for an unveiling later in the night. Yet the revelers below, entranced by thumping disco and free-flowing decadence, barely noticed the invasion in progress.
Further up, in the pitch black balcony, a 56 year-old engineer from New Hampshire fought off drowsiness and reminded himself why he had attended the deafening event: among the glamorous movie stars, the blasting music, and the swirling mirrored balls, it was his creation they were there to celebrate.
At approximately 3 AM on the morning of May 16th, 1978, the music stopped. The dazed crowd parted like the Red Sea, and a middle-aged man — the Vice President of Milton Bradley — took the stage to introduce the company's latest toy, a curious wheel of blinking colored lights and musical tones called Simon that would soon become the must-buy gift of Christmas 1978.
In the balcony, the engineer smiled: he had reached the end of a story that had begun, surprisingly, six years earlier.
[ Read more about Simon's creation at 1UP.com ]