July 21st, 2008 by
Benj Edwards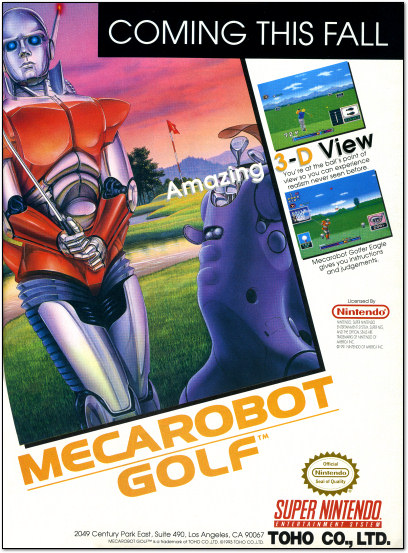 Something is crooked in the state of Denmark.
Leave it to the Japanese to create a fantasy golf game with androids, robotic caddies, and floating islands in the sky. As usual, they were quite forward-looking in 1993: they knew that some day, androids would be better at golf than humans.
I've actually tried my hand at this game a few times, and it's weird. While the 3D engine is cool, it's painfully slow; you can easily doze off while waiting for the screen to redraw.
[ Correction – 07/21/2008 ] I just played Mecarobot Golf again, and it seems that my memory was flawed. The whacked-out SNES Golf game I recalled above was actually Devil's Course. Now that is a crazy golf game. Mecarobot Golf still contains robots, but it features a smooth Mode 7 engine.
[ From Electronic Gaming Monthly, June 1993 ]
Discussion topic of the week: What's your favorite video or computer golf game?
If you use this image on your site, please support "Retro Scan of the Week" by giving us obvious credit for the original scan and entry. Thanks.